Artists in Rivalry: Extraordinary Designs by Hokusai and Kuniyoshi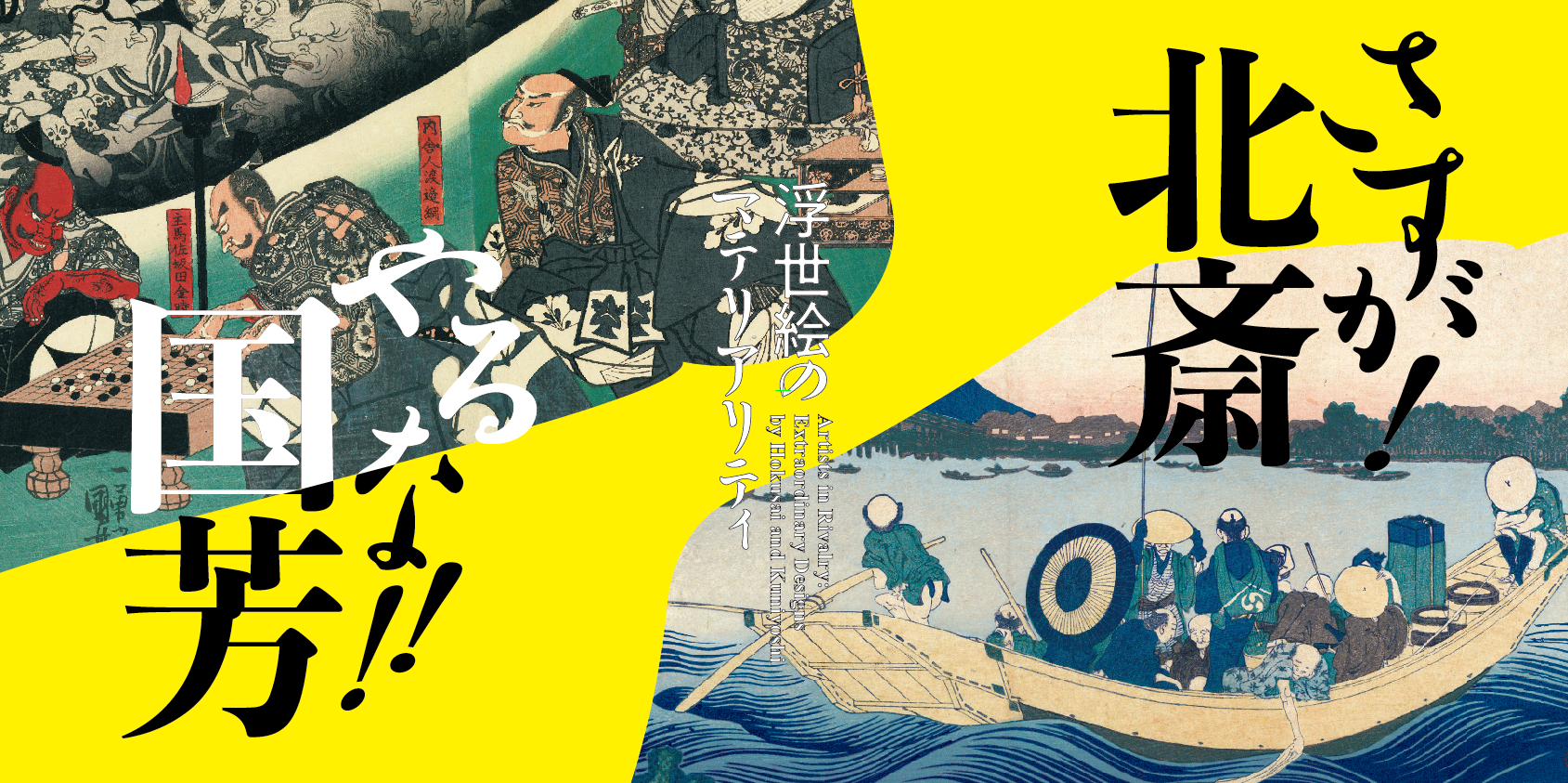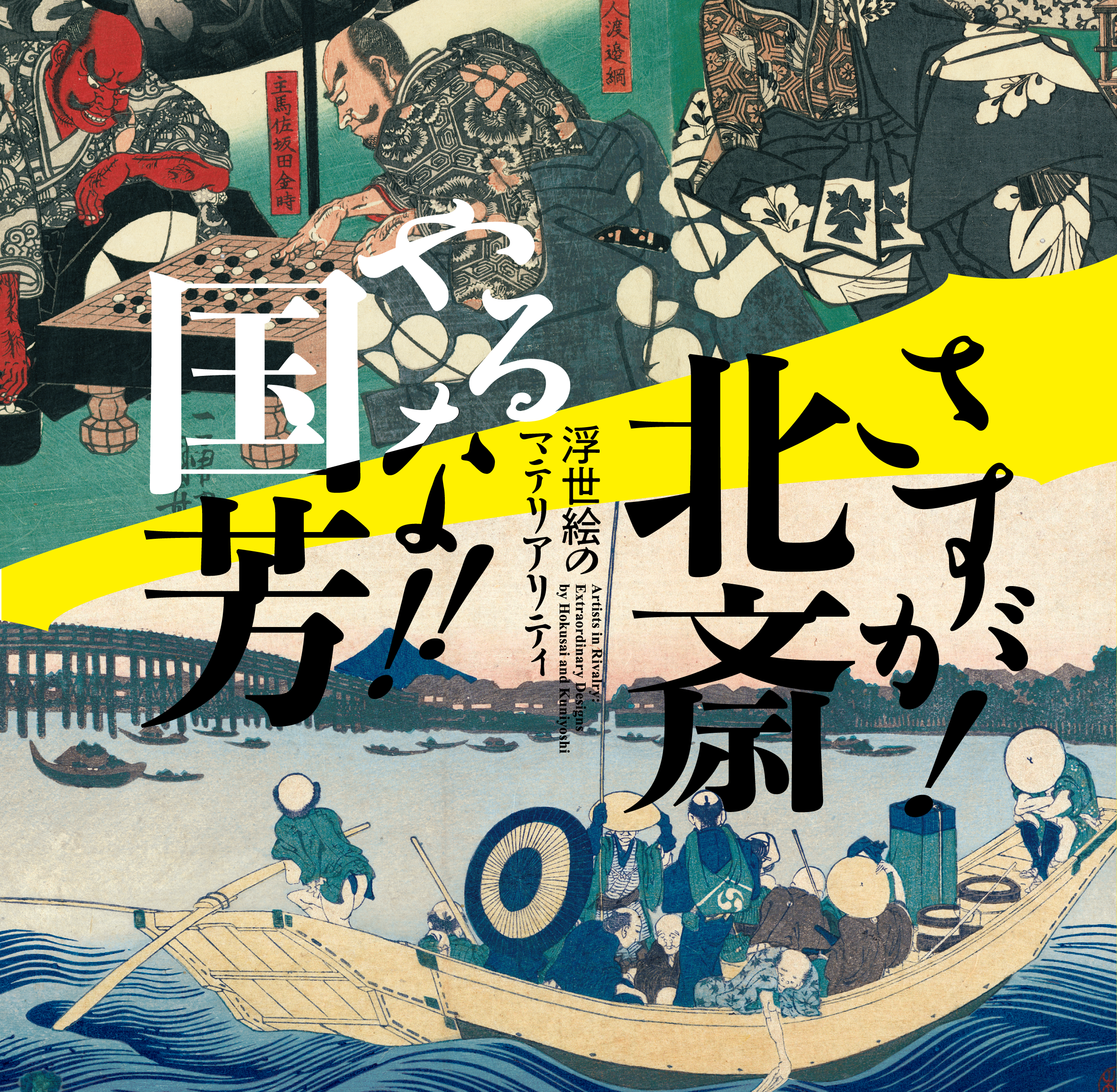 Hokusai and Kuniyoshi: two 19th century ukiyo-e artists from Edo whose names often appear alongside each other in textbooks, but who also shared a very real connection.
Hokusai, who became an independent artist after studying at the Katsukawa school that KATSUKAWA Shunshō began, branched out and absorbed various styles, eventually creating his own large artistic association known as the Katsushika School (Hokusai School). Meanwhile, Kuniyoshi was a second-generation student taught in the style of UTAGAWA Toyoharu, a contemporary rival of Hokusai's teacher, Shunshō. Both Utagawa and Hiroshige, as members of this same school of artists, were some of Hokusai's favorite competitors. However, according to stories from the time, Kuniyoshi approached Hokusai of his own accord out of respect for him as an elder artist but Hokusai, for his part, refused any sort of intimate association due to the former's artistic lineage.
This exhibition of prints from Keio's Seiichirō Takahashi Ukiyo-e Collection hopes to provide a space for visitors to once again be awed by the eccentricities and expressions that set Hokusai and Kuniyoshi apart from their peers and encapsulated their expertise as ukiyo-e masters. In addition, this exhibition will showcase unpublished works and never-before-seen sketches that highlight the dynamic brushwork from these two artists and their pupils.
With so many incredible pieces on display, we anticipate that visitors will find it hard to mask their excitement as they admire the works of these immensely skilled artists. We invite you to stop by, take your time, and enjoy the show!
Monday, May 15–Saturday, July 15, 2023

Some works will be replaced with other pieces during exhibition period.
1st half: 5/15 (Mon)-6/13 (Tue), 2nd half: 6/15 (Thu)-7/15 (Sat)

*Closed on Saturdays and Sundays
**Special opening: 5/20, 6/17, 7/15 (all Saturdays); Closed on: 5/22 (Mon), 6/14 (Wed), 7/3 (Mon)
11:00 – 18:00

Keio Museum Commons, East Annex, Keio University Mita Campus
Exhibition Highlights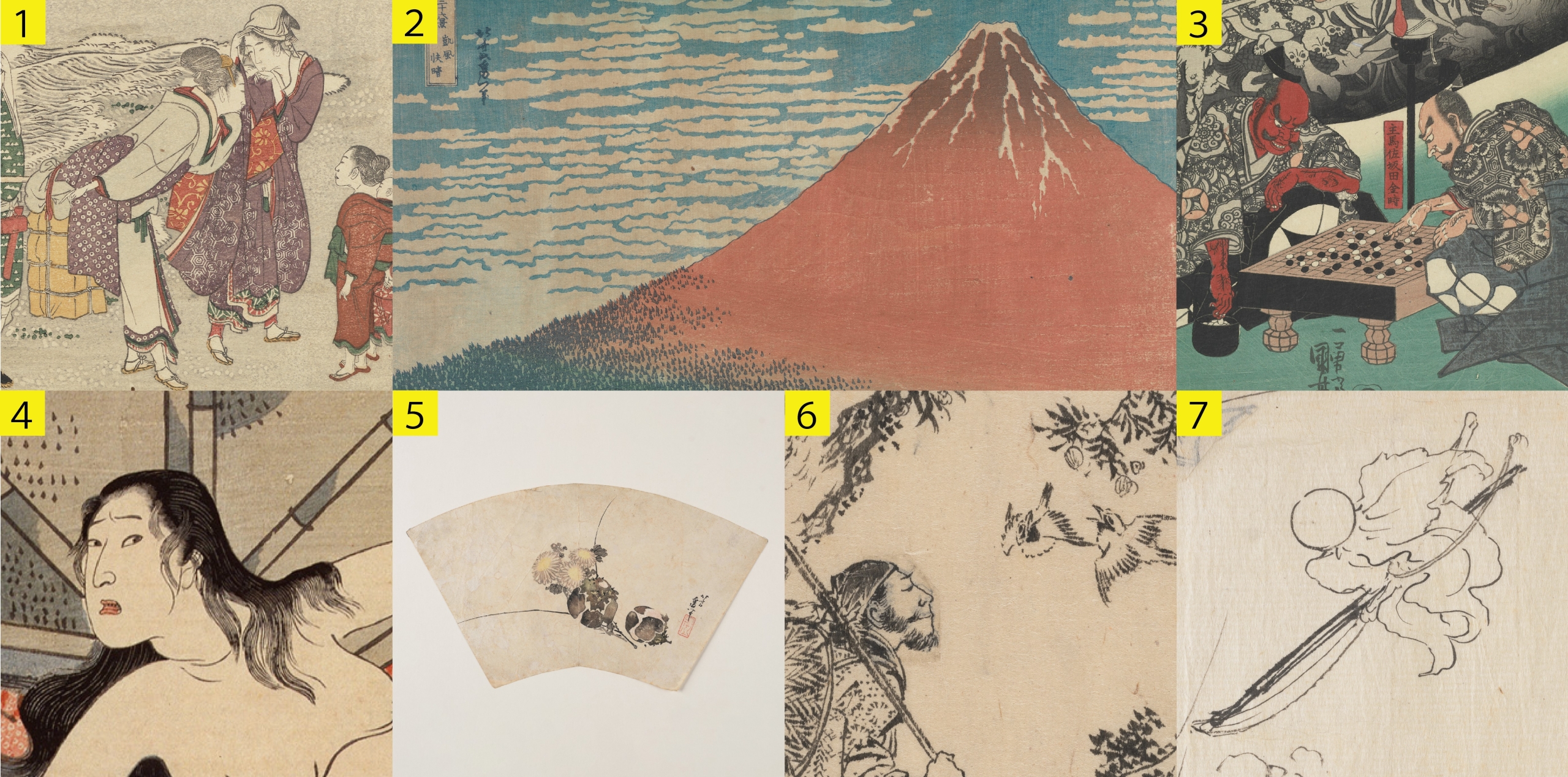 KATSUSHIKA Hokusai et al. (Illustration), Spring Scene of Enoshima, Branches of the Willow Tree (Yanagi no ito), Kansei 9 (1797)
KATSUSHIKA Hokusai (Illustration), Thirty-Six Views of Mt. Fuji: A Clear Breezy Morning, c. Tenpo 1–5 (1830−34), Large format multi -color woodblock print
UTAGAWA Kuniyoshi (Illustration), Earth Spider Conjuring up Demons to Torment Minamoto Raiko, c. Tenpo14 (1843), Large format multi-color woodblock prints (Triptych)
UTAGAWA Kuniyoshi (Illustration), The Lonely House at Adachigahara, Ansei 3 (1856), Large format multi-color woodblock prints (Diptych)
KATSUSHIKA Hokusai, Fan Painting of Chrysanthemums and Small Eggplants, Color on paper
Sketches of Chinese Historical Figures, from Preparatory Drawings by Artists of the KATSUSHIKA Hokusai School , Ink on paper
Chinese Lanterns:Jumping from the Boat to Boat, from Preparatory Drawings by Artists of  the UTAGAWA Kuniyoshi School, Ink on paper
1-4. Seiichiro Takahashi Ukiyo-e Collection at Keio University,5-7. Private collection
*5, 6, 7: On display for whole exhibition / 1,3: 1st half only / 2, 4: 2nd half only
Related Programs
Gallery Talks: Gallery talks will be given by museum staff
Admission: Free. Everyone is welcome to attend (advance reservations required)
Venue: Keio Museum Commons (East Annex, Mita Campus)
Date & Time:
29 May (Mon),14:00 –14:30, Reception has been closed.
9 June (Fri), 17:00 –17:30, Click here to apply.
19 June (Mon), 17:00 – 17:30,
7 July (Fri), 14:00 – 14:30
Various programs related to the exhibition are being planned.
Collaborative Project
Introduction to Art Archive XXV: Tanabe Collection of Kabuki Magazine, Yakusha
Date: Monday 22 May − Friday 28 July, 2023
Venue: Keio University Art Center
Organized by Keio Museum Commons / Mita Media Center (Keio University Library)
Supported by The Kao Foundation for Arts and Sciences