Who Forms Archaeological Sites –– in What Manner?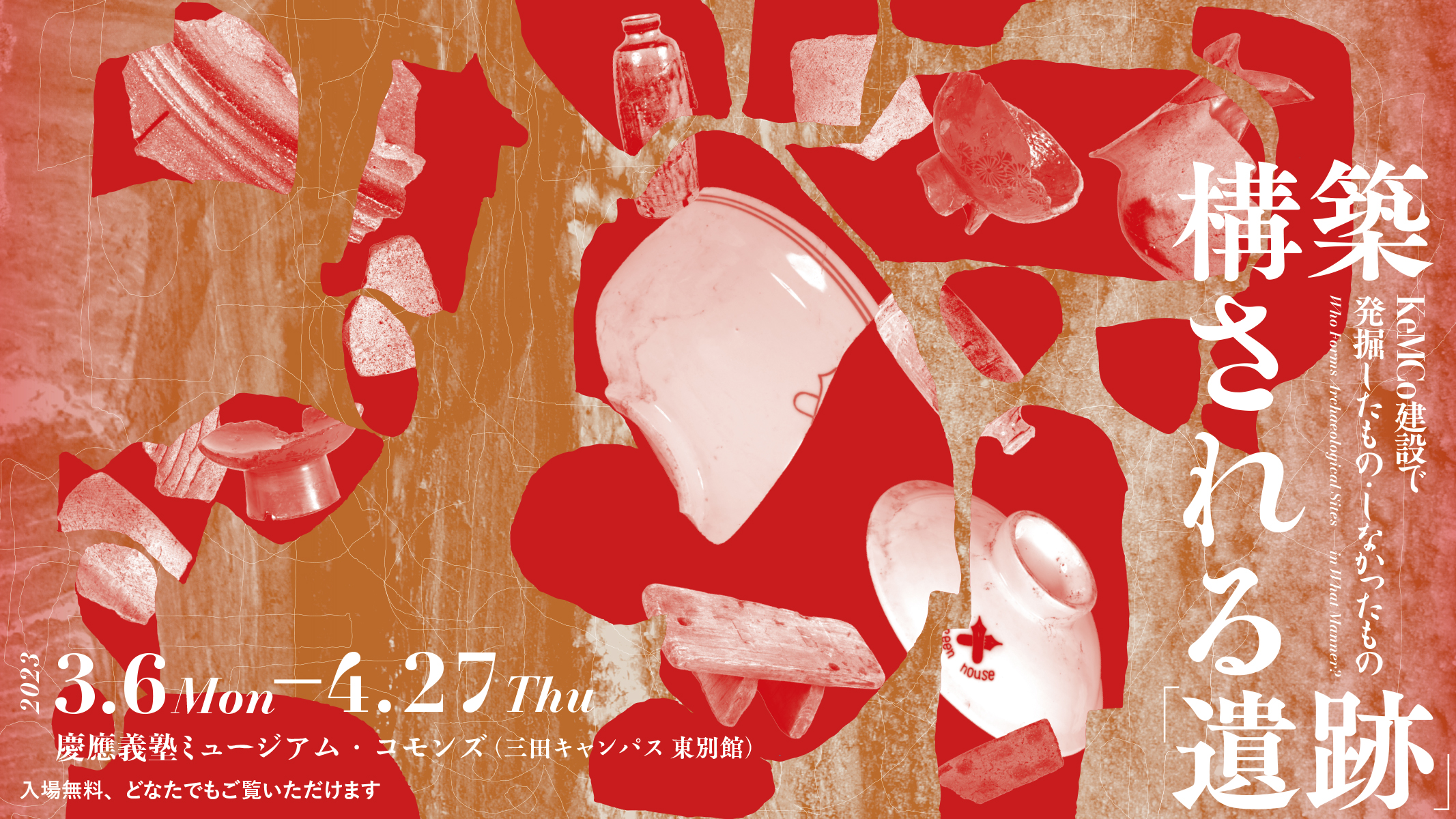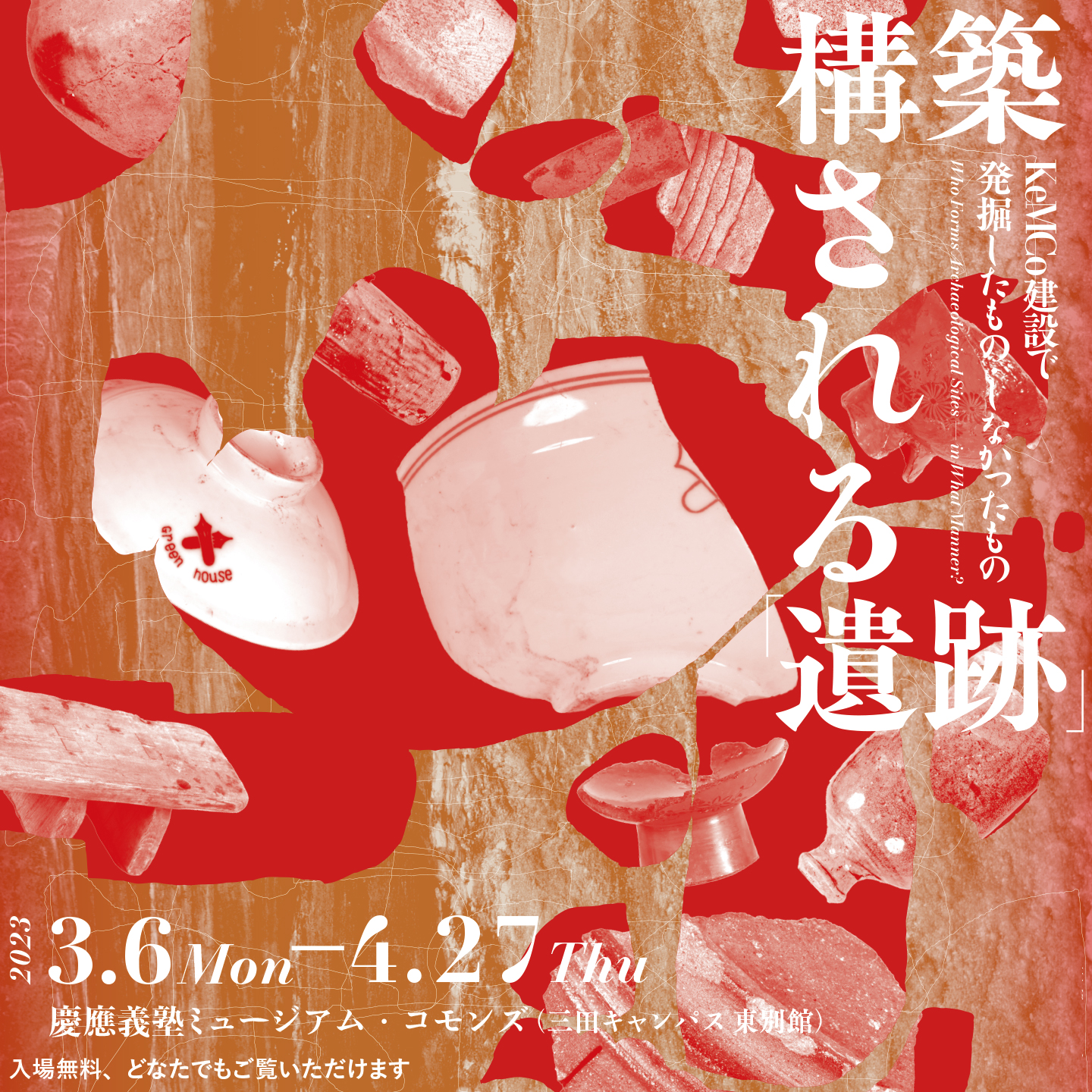 What are 'archaeological sites'? Generally, an archaeological site is any place where traces of people's activities from the historical past exist, most of which are under the ground. Therefore, excavations are necessary to reveal the contents of these archaeological sites.
When Keio University built the Keio Museum Commons (KeMCo), it excavated the site to preserve the records and artifacts at risk of being destroyed during construction. The excavation was fruitful, producing various traces from the Edo period to the Jomon period among other findings.
This, however, does not mean that all traces in the area were unearthed. For example, traces of natural phenomena and the modern period were not covered. This brings into focus that excavation is, in fact, an act of selecting traces, which dictates how we construct the 'archaeological site' and the 'history' told there.
This exhibition highlights the results of what was – and wasn't – selected. Dismantling the framework which constructs archaeological sites is an excellent opportunity for participants to question the status of 'archaeological sites' and 'history'.
Monday 6 March–Thursday 27 April 2023
*Closed on Saturdays, Sundays, Public Holidays
**Special opening on Saturday: 3/18, 4/22, Closed on Monday: 3/13, 4/17


11:00–18:00

Keio Museum Commons (East Annex, Keio University Mita Campus)
Exhibition Highlights
Room1 Findings from the excavation of the Mita 2-chome Machiya Site
01 Overview of the excavation
02 Investigation of the topographical formation process
03 From the Yayoi to the Kofun period: Roads give rise to settlements
04 From Antiquity to the Middle Ages: Comings and goings of people and objects
05 The early modern period: glimpses of life in townhouses
Room 2 Who Forms 'Archaeological sites'?
06 What was and was not excavated at KeMCo
07 What was and was not excavated at Hiyoshi Campus
08 Does the hill of Mita classify as an archaeological site?
09 Searching for traces of the past at Mita Campus
Selected Materials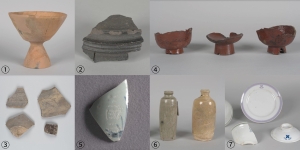 1.Earthenware in the shape of a stem cup (Late Yayoi period, 2nd-3rd century): Typical of earthenware from the Tokai region's western part.
2.Circular inkstone (Nara period, 8th century): Evidence of documentary administration. The first excavated example in the Ebara district.
3.Atsumi and Tokoname pottery (Kamakura period, 12th – 13th century): Large wide-mouthed jars and pots with three-lines design. Rarely found in ordinary villages.
4.Lacquerware (Edo period, 17th century): Discarded items from daimyo feudal lord residences. Residents of townhouses sometimes accepted things thrown out from neighbouring daimyo's homes.
5.Bottle inscribed with 'Mita Nicho…' (lit. 'Mita Second Str…'; Edo period, 18th-19th century): Bottle evidently used at the site. 
6.Bottle inscribed with 'Uchita' (Edo period, 18th-19th century): Remains suggesting this site was a liquor shop called Uchida-ya.
7.Tableware from the Hiyoshi Campus canteen (during and after WWII): Important historical materials in the history of Keio University. Excavated from Keio's Hiyoshi Campus.
Photo: Katsura Muramatsu (Calo works Co.,Ltd.)
Related Programs
1.Dialogue between Archaeology and Contemporary Art
Prof. Hiromichi Ando (Faculty of Letters, Keio University) × Kenji Yamada (Artist)
Date: Friday 14 April, 19:00–20:30
Venue: Keio University Mita Campus, G-Lab (East Research Building, 6F)
Admission: Free, open to the public (advance registration required)
*Please visit the KeMCo website for more information on this and other KeMCo programmes: https://kemco.keio.ac.jp/en/
2.Project|Mita Intercept_(Kenji Yamada)[exhibition]
The public art Mita Intercept_ was created by artist Kenji Yamada as a virtual common space where citizens and students mingle in ruins excavated before the construction of Keio Museum Commons. This exhibition will show a video installation that records of the workshop to reactivate the relics in the project space to the present day as their activity for continuing the excavation openly.
Organisers: Keio Museum Commons, Department of Archaeology and Ethnology, Faculty of Letters, Keio University
Cooperated by: TOKIO-bunkazai Co.,Ltd.