KeMCo New Year Exhibition 2023
Where the Rabbits Are
Special Exhibit featuring Kyoka's Favourites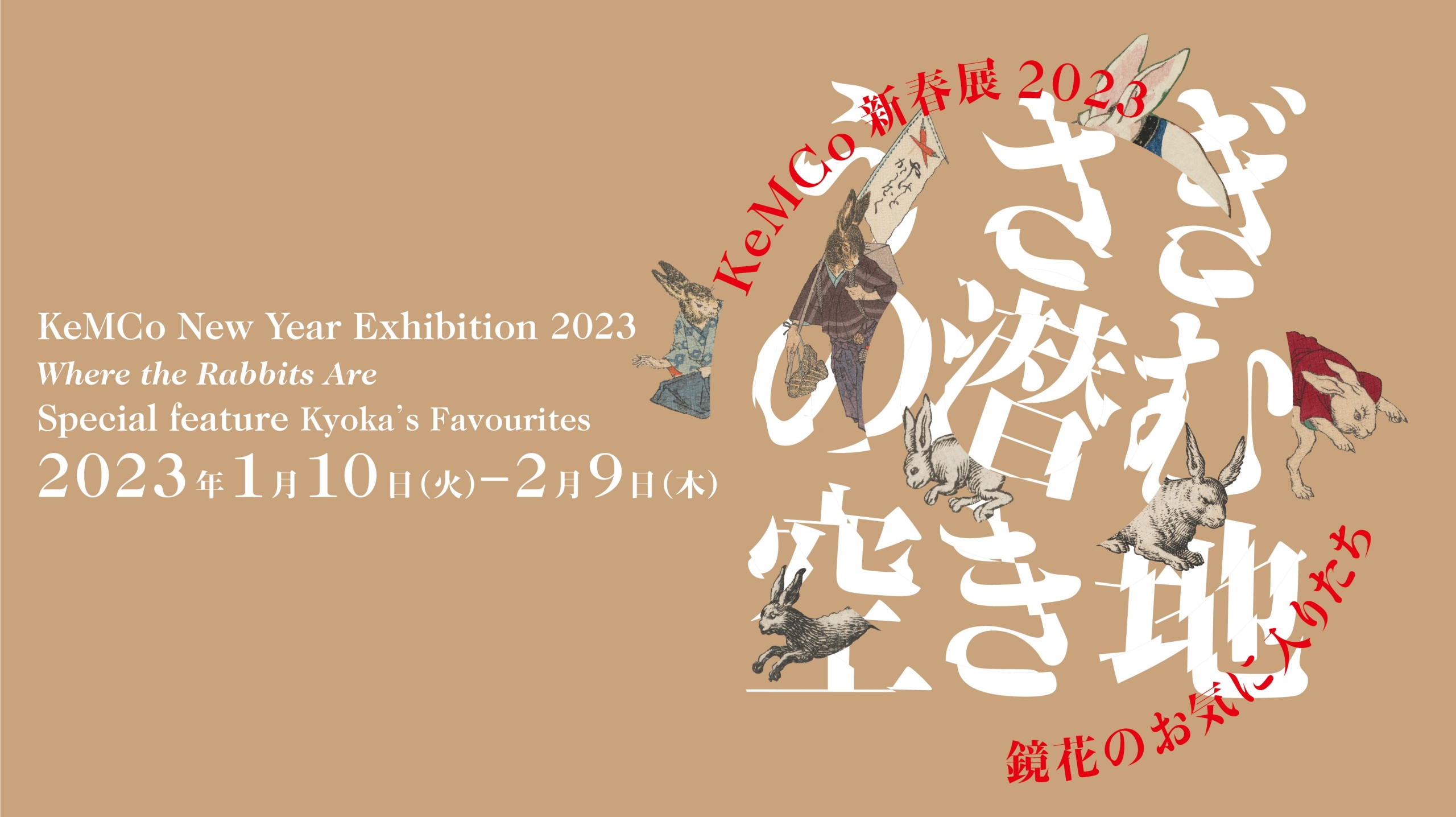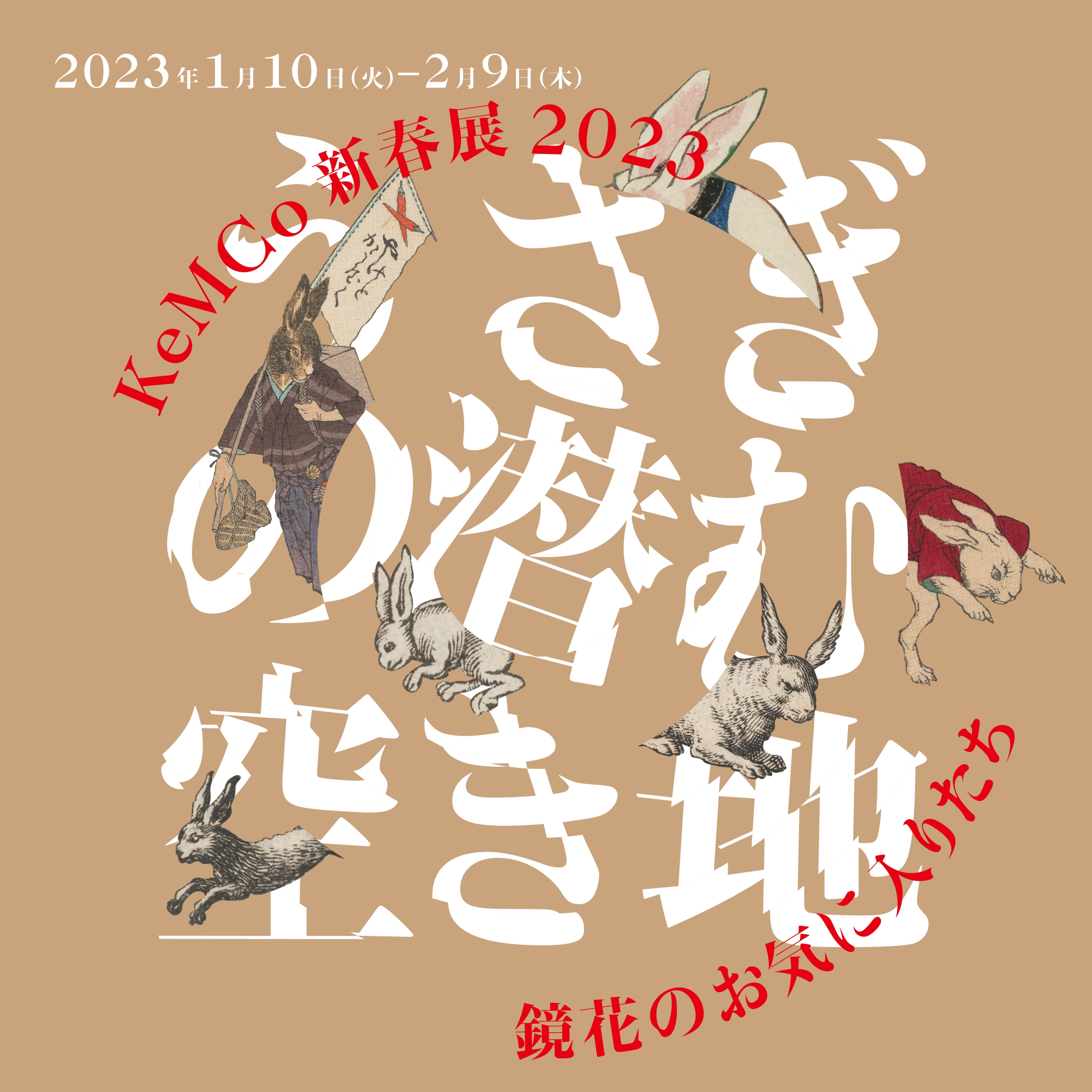 The year 2023 is the year of the rabbit in the Chinese zodiac.
To mark the beginning of the New Year, this exhibition introduces the rabbits hidden among the diverse collections of Keio University — from the familiar tales with rabbits, to objects that makes you wonder "is this really a rabbit?" We hope that you will visit this exhibition to delight in the depictions of rabbits from throughout history and in a wide range of media.
In cooperation with the Izumi Kyoka Kinenkan Museum, the exhibition introduces the rabbit collection of Kyoka Izumi, a novelist who was known for his love of rabbits, as well as works by members of his circle of friends, which they dubbed the "Nines Club"("Ku-Ku-Ku Kai"). This group included several artists, such as Kiyokata Kaburaki, Settai Komura, and Sabrosuke Okada, in addition to the authors Takitaro Minakami and Mantaro Kubota, who were both graduates of Keio University.
It is our hope that this exhibition provides visitors with an opportunity to experience the breadth of the Keio University collection through the lens of the interaction between Kyoka and his circle of friends.
Tue., January 10, 2023 – Thu., February 9, 2023

11:00—18:00 (Last admission at 17:30)

[Closed Saturdays& Sundays]

*Special opening days: January 21 (Sat.)& February 4 (Sat.)

**Closed on  January 16 (Mon.)& 30(Mon.)
Event
Talk Event
Date::Sat. February 4, 13:30–15:00  [Free, booking required]
Speakers:Tamaki Anakura(Curator, Izumi Kyoka Kinenkan Museum)、Peter Bernard(Assistant Professor, Keio University Faculty of Letters)
Venue::Keio University Mita Campus, G-Lab( East Research Building, 6F )
Exhibitions Highlights:

1 Kachi-Kachi Mountain, Y. Nishinomiya, Crepe-paper book, 1886
2 Fables, La Fontaine, Book, 1668
3 Water Chestnut-Shaped Octagonal Mirror Depicting the Moon Palace, Bronze, Tang dynasty (7th century)
4 Mirror Case with Pampas grass and Rabbits, Lacquered wood with maki-e, Edo period (17th century)
5 Chinese poetry 「無所思還有所思⋯」, FUKUZAWA Yukichi, Ink on paper, 1883
6 Angenehmer und nützlicher Zeit-Vertreib mit Betrachtung curioser Vorstellungen allerhand…Thiere, Johann Daniel Meyer, Book, 1752
7 Book of Hours in Latin, Ink on Parchment, Southern Netherlands, mid-15 th century
8 Chromatopoiema, Yoshikuni Iida and Junzaburo Nishiwaki, Silkscreen, 1972
9 Procession of Foolish King from the performance "Hijikata Tatsumi and the Japanese: Rebellion of the Body", Mitsutoshi Hanaga, Gelatin silver print, 1968
10 Rabbits, Crystal
11 Rabbit-shaped Hand-warmer, Pottery
12 Stationeries of Kyoka Izumi
13 Artworks for Selected Works of Kyoka, Settai Komura, Colour on paper, 1915
Repository: 1, 2, 7, 8, 13 = Mita Media Center (Keio University Library), 3-4 = Keio University (Century Akao Collection), 5 = Calligraphic works of Yukichi Fukuzawa, Mita Media Center (Keio University Library), 6 = Hiroshi Aramata Natural History Book Collection, Mita Media Center (Keio University Library), 9 = Hijikata Tatsumi Archive at Keio University Art Center, 10-12 = Kyoka Izumi Collection, Mita Media Center (Keio University Library)
Organized by Keio Museum Commons / Mita Media Center (Keio University Library)
Cooperated by Izumi Kyoka Kinenkan Museum / Keio University Art Center / Institute of Oriental Classics (Shido Bunko) / Department of Aesthetics and Science of Arts, Faculty of Letters / Fukuzawa Memorial Center for Modern Japanese Studies / Department of Archaeology and Ethnology, Faculty of Letters