Art Center – Introduction to Art Archive XX Fumihiko Maki and Keio UniversityI : Resonating Architecture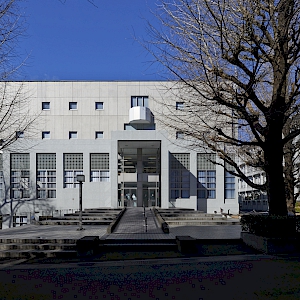 Fumihiko Maki (1928- ), who has studied at Keio, Tokyo and Harvard University, is a pioneering modernist architect who has consistently been at the forefront of architectural design worldwide. His architectural ethos is based in a profound understanding not only of architecture in and of itself, but also the environments which surround architectural structures. His unwavering vision also takes in the "ethics" of relationships between cities and architecture and its legitimacy in both historical and contemporary contexts.
At the exhibition, Maki's architecture will be taken up as a situating focus for his relationship with Keio University, centering on the Mita and Hiyoshi Campuses. It will explore how Maki envisioned a new architecture tailored to its era while remaining attentive to the historical and environmental contexts of Mita Campus with its storied past and traditions, and those of Hiyoshi Campus which has traced an entirely different history.
Monday,  February 1– Friday,  March 26, 2021 / 11:00–18:00
(Closed on Saturday, Sunday, Holidays)

Keio University Art Space

Keio University Art Center
+81-3-5427-1621

ac-tenji@adst.keio.ac.jp
Organised by: Keio University Art Center
Support by: Fumihiko Maki,
Photo: Hiyoshi Library
Photo by: Ryota Atarashi