Art Center – Akira Kasai Butoh Performance "Dancing the Constitution of Japan" [Video distribution of performance recording]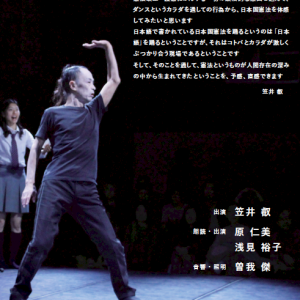 I wish to interact with and experience the Constitution of Japan through my body and the physical act of dancing, beyond all political intentions regarding constitutional amendment or advocacy.
By dancing the Constitution of Japan, which is written in Japanese, I will dance the "Japanese language," namely a scene where words and the body violently collide.
Moreover, through this, I may foresee and intuit the fact that the Constitution was born from the depths of human existence.
Kasai Akira
---
The welcome event for new students began on Hiyoshi Campus with a butoh performance by Kazuo Ohno in 1994. Its theme of "heart, body, and mind," has become an important concept at Hiyoshi Campus, with representative butoh artists from Japan performing to great responses each year. A video recording of the this year's event at the Hiyoshi Raiosha, which will see a performance by Akira Kasai for the first time in 10 years, will be distributed online.
December 24, 2020, 13:00〜

Open to everyone / Come and go anytime

Keio University Art Center (Ishimoto)
Tel. 03-5427-1621
Organiser: Keio University Art Center, Portflio Butoh
Planned by: Hijikata Tatsumi Archive @ Keio University Art Center
Cooperated by: Hijikata Tatsumi Asbestos Studio,